The Return of East Atlanta via Baltimore Santa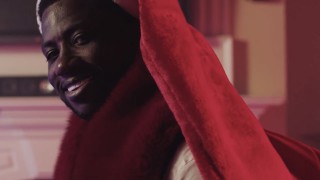 TW S*ICIDE MENTION
The Return of East Atlanta Santa came out the week I got out of the hospital after after my last suicide attempt. This song is triggering, and acts as a litty ode to my self care, self love, best version of myself so far
Gucci Mane- St. Brick (intro)
A igloo full of snow and a white stove
House full of naked hoes snortin' blow
It's so lonely at the top, plus its real cold
A house full of hoes and they cookin' blow
I'm in Zone 6 a.k.a. the North Pole
Middle of the winter I pull up in a vert
It's the middle of December she pulled up in a skirt
Santa Claus of the hood
I pull up with the work
They call me East Atlanta Santa
Run up on me get murked
I'm just trappin' through the snow
Sellin' nine half a bricks in four ways
Over the hills we go
Got an extendo and an AK (gra, gra, gra)
I'm a neighborhood philanthropist
I'm sellin' bales of cannabis
Preachin' like an evangelist
But I don't fuck with amateurs
I drive spiders, yeah, tarantulas
My diamonds are immaculate
I'm not on no romantic shit
But I'm cookin' cocaine, candle lit
I'm so trill, your hoe can't handle it
But damn, that bitch can suck a dick
Skeeted on her face and lip
Guwop can't fuck no basic bitch
The teacher teachin' arithmetic
Show you how to whip a brick
Learn you how you run your clique
And told you how to kill a snitch
My young girl she a freaky chick
But damn she on that sneaky shit
Ran off with a half a zip
And now I got to slap a trick
All these record labels broke as shit
Ricky Dinky record shit
I sell more meth than a Mexican
My dog food yea its excellent
I done started sellin' Christmas tree
I'm tryna jingle bells hoe
Its Christmas time its Hollis, Queens
I'm stompin' in my shell toes
Christmas time in '96
I asked Santa for twelve golds
But now Guwop got gifts to give
But I don't fuck with twelve though
Santa Claus in the city, bag full of goodies
I wish these faggot-ass cops would let a nigga live
I'm tryna come down the chimney with a 100 mil
I'm the Bricksquad boss I'm like Santa Claus
Exhale
Many of us have some story, some trauma related to the holiday season - the season where white people have set a tone of brutality and genocide masked with selflessness and community in America. This is reflected in special dinners where we dress up, eat till we are sick, exchange monetary based gifts that are to reflect our love for each other, and overall invest in a mask of positivity, service, and the myth of a white savior who died for our sins… rather than a 6lack Palestinian refugee who lived amongst the poor.

This year my Thanksgiving was spent with someone I've known less than a year, but means the world to me and is by supreme balancing force. I mostly forgot about Thanksgiving this year, I literally only knew from my calendar. But the instagram pics to passing conversations, made it come alive. That's depressing for me. You think about your loneliness, you think about your second suicide attempt, you think about having to do the same process next year and hope it gets better.
Thanksgiving used to be a thing: a time where I'd be forced to be around people I hated and had zero interest interacting with. Make an appearance, two plates, and disappear.
Thanksgiving then became meaningless: a time when I was the most on edge in my life. In violent arguments I would drive to Baltimore, no matter how far to find some unsuspecting place where no one would intervene in an attempt to give up on myself.
Thanksgiving is now but a placeholder. it isn't super emotional for me, but it is important I am surrounded with love and/or friend family. This holiday is not holding space for my trauma or of my mom, but for December and Christmas Time, aka my favorite holiday movies and excessive amounts of chocolate [hint*dark chocolate and peppermint chocolate are my favs]. And most importantly, a symbol of an upcoming new year of possibilities.
Exhale
November has gone by so fast! This time last year I was a broke bih hustlin in ATL, in a new relationship, and had changed my name. The most fun in changing my name has been having others accept it and not question it. Changing my name is probably my biggest accomplishment of 2017. That was a major year of healing, bullshit, lesbian luv, fake ass friends, coming into my power, and finding my calling.
Exhale
The only reason why I wanted to write was because I am so excited for 2019. As @HeyFranHey would say, I'm thankful in advance. I wanted to give myself the time and space before the end of december to reflect on this year. 2017 felt like the longest year of my life, going from DC, HTX, ATL, and starting the new year in Chicago. It is so hard to imagine I've dedicated myself to a year here now. I have mentioned before how it's so hard to set a future for yourself when you didn't see one for such a long time, and gave up on the ideal. When getting through a day, to a week, to a month were major goals. Being committed to living in this city for a finite amount of time is a major accomplishment. Moving here with someone, breaking up, and still holding it down has been a test as well.
The Hesna of last year could not have dreamed up this reality.
She/he/they/whatever couldn't have imagined :
how radicalized she would become from politicizing her oppression.
how deeply in love with herself that she could sustain her lonely independence
how that diligent radical self love would counteract mental illness on the daily
that being 'psychic' was no longer just a joke
how the breadth of their formal education and self taught scholarship would come into play everyday
how strongly anxiety could paralyze growth, and was equally as distressing as depression or ptsd
how cr'*zyness was defined by lack of love, support, and empathy, not personal flaw or fleeting doubt
that she'd teach a workshop at Loyola for highschool students on storytelling and reclaiming power to the narrative
how blackness and perceived womanhood intersected to create the most disrespected existence i America
how moving forward was always the answer to success
how her ~analysis ~ would be core to the relationships built in Chicago and the conscious building in various settings
how ptsd shows up as paranoia and mistrust of others
how cultural white supremacists exist in all races
how her power overflowed so much beyond her consciousness, people would be intimidated and offset by a confidence
that her doubt would consistently cause her the most internal damage
letting go of perfectionism was the best thing she ever did
how anxiety would cyclically inhibit her sleep for days
how healthcare and wellness is essential, but mostly physically and financially inaccesible
that she simply was that bitch and it was her job to consistently remind her of that…because who else wood?
how this site, almost 2 years old, would serve as a vehicle to process emotions and process knowledge on my own terms
Exhale
It is so easy to be engulfed in 'Hesna' and not my past. I show up as my full self at all time, dismissing no part of my experiences or identities. That's empowering to say because I am reminded everyday that not everyone is invested in authenticity and being intimate with others. It's amazing to me that friends and acquaintances will laud my everyday media that appears to be fun and exciting, when I'm truly just in love with the job I have and the life I am living. The rollercoaster of moving has allowed me so many landscapes to heal and evolve in, by myself and with others. Of course I wouldn't change I thing in this process, even how long it took and continues to take. I've rediscovered myself and evolved to a point where I exceed my expectations on the regular. It is truly hard to keep up. And yet somehow my favs do. Somehow all my favs I've met on this journey are my closest friends and have grown with me. I want to remain so present and sit in these moments, because I've come full circle to myself interests, desires, and ideal self care setup.
Before the year is over, I will make a list of new resolutions and assess the past ones. I am living my very best, Disabled, gendernonconforming, all pronouns, queer, lesbian, abolitionist, anarchist, turn-up-on-12 at all times life and I know my people are in Chicago somewhere hiding. Year 2.